Coralspin is a British prog-influenced melodic rock band. You can buy their acclaimed album Honey and Lava from Bandcamp. A lot of the recording has been done for their second album (working title Unravelled) and one day it will eventually appear.
Coralspin are:
Ellie Blyth: Vocals, keyboards.
Blake McQueen: Keyboards.
Jake Simmons: Guitar.

First album rhythm section:
Steve Kightley: Bass.
David English: Drums.
Second album 'guest' rhythm section (pics below):
Mick Wilson (from Red Bazar): Bass.
Ed Gorrod: Drums.



No. 8 album of the year at major US prog site Progarchy.
Prog magazine (CD review by Rachel Mann): 'A glorious fusion of the chops of Yes, Queen and Kate Bush. Some albums begin so wondrously they make you run naked around the house in sheer delight. Coralspin's Honey and Lava is one of those. Opener Sons of the Sleeping Giant is a monstrous piece of old school prog like Yes on steroids with the drive of Led Zep in Kashmir mode and the bombast of Queen… staggering guitar work from Jake Simmons'.
Reviewedonline.co.uk: '5/5. Prog-rock just got a new hero, or heroine, in Coralspin, for which melody and originality come as first nature… Coralspin's first album is not merely a taster but is a fully-formed and eminently accomplished oeuvre, possessing an aura of commitment and competence missing from much of today's readily disposable output and its lyricism is the stuff of genius. Ellie's voice is hauntingly contralto in its styling, which lends the lyrics a surprisingly familiar tonal quality… Kate Bush and Sandy Denny influences may lurk in there somewhere, I think that Ms Blyth manages to scythe her own appealing niche in this upper grade stage. Honey And Lava is a brilliantly executed album of just eight different tracks that are delivered richly and smoothly… Coralspin manages to avoid too many 'proggy' moments, with its unique spin on the rock scene and the lyrical progressions are almost as brilliant as the musical breaks… the listener is taken on a delightful ride from one cusp to the next of musical expressionism that is never less than stimulating and eminently accomplished. Honey and Lava is a fresh take on some well-established precepts.'
Chris Kee at Raw Nerve: 'incredibly accomplished debut album… Ellie Blyth and her pure, natural voice is one of the most potent elements of the Coralspin sound… does not give up all its secrets in one sitting. It's an album that will grow in your affections with each successive play, warming your heart a little more each time, and thus ensuring its longevity. Brilliantly realised songs like 'Sky's End' and 'Nightstalker' showcase the superlative skills of guitarist Jake Simmons and keyboard player Blake McQueen… and underline the huge potential that Coralspin possess'.
Sonic Shocks magazine: 'Another band that no doubt in so many years will be an inspiration for the NEXT wave of progressive melodic rock… Coralspin manage to be as strong as their peers, Asia being one that immediately comes to mind given that band's history.'
Guitar Techniques magazine: 'Their collective sound is huge. Their self-penned music is thoughtfully constructed and expansive as they delve into a great melting pot of prog, pop and modern rock. Together since 2008 they have developed a unique sound… with great guitar work throughout… With two keyboard players in the band, the keys are clearly a dominant factor, along with Ellie's somewhat operatic style of singing, but that certainly allows Jake's excellent guitar to really stand out… if it [ie. prog] floats your boat too then give this a listen — we think you'll like it.'
Prog magazine (in an earlier issue): 'Sums up why so many are tipping them for big things'.
The Flame: 'If you can imagine such prog legends as Yes mashed-up with Muse you may approach the style presented here, throw in some fine female lead vocals and you have a perfectly balanced debut album'.
Ave Noctum: 'This singer is an ace card in the pack… I was soon hooked into the misty world which the singer and her fellow musicians present… The singer lives up to her billing. Her voice is unusual and versatile… Ms Blyth's beautiful, calming voice make 'You're Wrong' very special… The production is good and although on the face it's all very simple, but in reality there are many ingredients… An undoubted strength is the harmony of mood between the musicianship and the vocals.'
MetalTalk: 'Honey And Lava is everything its title suggests, giving anyone who listens to it a lovely sweet-melty-warm feeling inside'.

Classic Rock Society magazine: 'Sons of the Sleeping Giant is their stomping opener with great hooks, delicious use of synthesizers and strong female-vocals throughout… Aching finishes the album on a real high, showing Ellie's vocals at their best but leaving space for guitar, great piano work and undulating synths… repeat listens rewards you and there are plenty of musical ideas demanding development into longer tracks; the songs will work very well live'.
Prog magazine (from a profile/interview by Sarah Worsley): 'Imagine the sparkly-caped tinklings of Yes mixed with Queen's classical guitar virtuosity and a sprinkle of Kate Bush's idiosyncracy. Now, if that doesn't get your prog synapses twitching, nothing will.'
Vanguard-Online: 'There is a real subtlety to the tracks on 'Honey and Lava', no need to force the issue, rather let the silky professional sound flow over the listener with an easy intensely hypnotic sound… an album of a classic sound that is both technically brilliant and beautiful in its delivery'.
Alternative Female Voices magazine: 'The album flows effortlessly from start to finish with its sharp rich harmonies and silky vocals… her vocals are simply sublime. Coralspin are truly amazing musicians and have put together a truly professional sounding album… absolutely no doubting this band's overall talent and songwriting skills. Coralspin will go a long way in their own particular field'.
Progarchy: 'The production of this album is simply stunning –- this hit me from the first moment I put it in my cd player, and it continues to impress me with each listening… The bass and the drums are crisp, offering this album a much more punctuated and professional feel than some of its 80s ancestors. Indeed, I wish Horn and Rabin would've mixed Chris Squire's bass at this level on 90125…. He's, simply put, a master audiophile, in the same league with Steven Wilson or Rob Aubrey. The lyrics on this album are wonderful as well –- mythic, pointed, hard, soft. Everything has its place, and its place is very good'.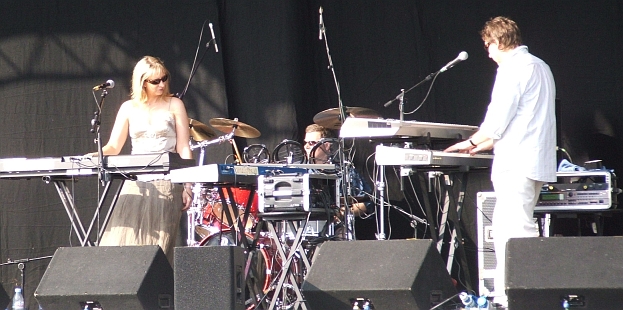 Get Ready To Rock: 'polished and intricate, and instantly enjoyable'.
Prognaut: 'Tracks like "Sons Of The Sleeping Giant" and "Sky's End" rock out with the intensity and panache of vintage Rush. It's a showcase for guitarist Jake Simmons… "Mistimed" is the type of hook laden rocker that transformed many 80s' artists from successful musicians to music video megastars – artists like Eurythmics, Missing Persons, Blondie, and Berlin. This is vintage 80s' synthpop at it's finest. And for the cynical detractors who pontificate on all that was wrong with the popular music of the 80s' – "Mistimed" represents the embodiment of what was right. And Ellie Blyth's vocals are spot-on perfect for this number… The same can be said for the vocal presentation on the tune "Night Stalker", which echoes Nancy Wilson of Heart. For "Night Stalker" Blyth's vocals match the power and passion of the music… The album closes with the beautifully rendered ballad "Aching" featuring some nice keyboard work from McQueen and Blyth, and smoking guitar from Simmons… Loved all the tunes and quality musicianship that went into each track … and thought the production was flawless'.
Battle Helm: 'the mellow prog band that's turning heads this side of the Atlantic… the musicianship is outstanding on songs like 'Sons Of The Sleeping Giant', 'Sky's End' and 'Songbird' that reflect quintessential English quaintness as well as embody the legacy of 70s hippie prog spirit on this rich and very smooth album'.
Sea of Tranquility: 'Musically the three-piece, expanded to five, are skilled and classy, with an ability to cleverly link focused, busy keyboard sounds with more straight ahead rhythms and structures, making for songs which are reassuringly welcoming, but which challenge rewardingly'.
Silhobbit: 'From the first play it's obvious that the band are highly talented musicians… this album has been well worth waiting for!'
Midlands Rocks: 'It takes a good progressive rock band to write a seven minute track that doesn't for one moment feel bloated. Thank the heavens above then that Coralspin are a good progressive rock band… 'You're Wrong' is another example of outstanding musicianship, with Ellie Blyth's haunting voice delivering a fine chorus that 99% of bands can only wish they had written… The production of 'Honey and Lava' is excellent… The synth-led 'Mistimed' is another majestic piece of music, before 'Burn My Eyes' and 'Sky's End' prove that Coralspin are by no means one trick ponies… a prog album that grows with every play, seemingly offering something different every time… Coralspin have a lot to offer, and not just to hardened prog fans'.
Prog Archives: 'It's refreshing to hear a band that takes the sounds of my favourite genre, and structures them in such a way that makes it accessible and instantly enjoyable to hear'.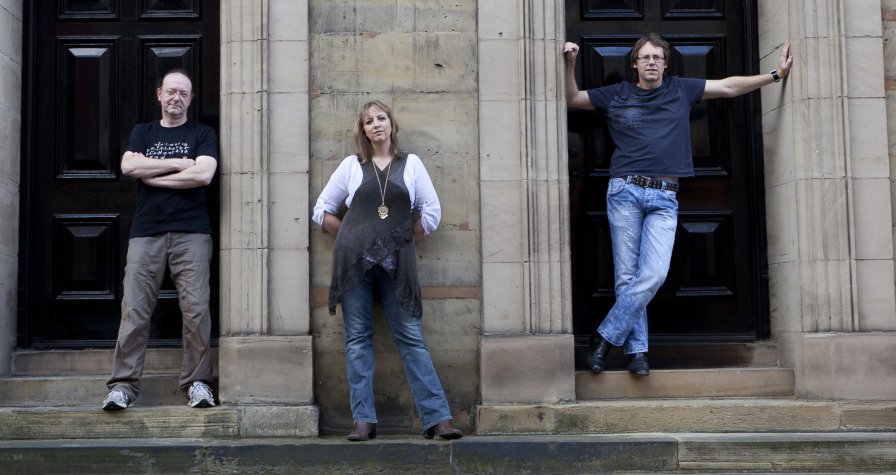 Planetmosh: 'the whole record is very accomplished and oozes class, with tracks like 'Burn My Eyes' and 'Sky's End' simply rocking the stereo, 'Mistimed' is a beautifully constructed song, suiting Ellie's vocal style perfectly'.

Jerry Lucky (jerrylucky.com): 'Coralspin bring together influences as diverse as Kate Bush and Led Zeppelin to give something quite unique… many of these compositions are shorter in nature and yet contain lots of artistic elements; subtle arrangements and interesting use of instrumentation. The tunes start off in a certain fashion but never go where you think; the band offer up many pleasant little surprises along this musical journey… Coralspin in their short time together have been gaining much media attention and I think it's well deserved. Their initial foray into the musical world, Honey and Lava offers much to acquit itself. Balancing some great melodic tunes against some rather artsy or proggy elements provides Coralspin with a sound that is all their own. As a first offering they get full marks from me and I can't wait to see what they do next. You would do well to check'em out.'
Artrock (Sweden): 'extra spicy, thanks to singer Ellie Blyth's magical soaring voice' ('extra pikant tack vare sångerskan Ellie Blyths trolskt svävande röst').
Ken Foster at Strummer: 'Ellie Blyth's vocals are perfectly suited to this type of music and on the excellent 'You're Wrong' they are showcased to full potential… If you like your prog with a heavy dose of melody then look no further. Rating: 4/5′
Sea of Tranquility (a second review): 'A classy keyboard soaked melodic prog debut… Skilfully combining seductive, commercial, pop sensibilities with expansive prog trademarks makes for an appealing debut album… Ellie Blyth's rich vocals make a welcome first impression… The sublime piano and vocal introduction to "Aching" find Coralspin pushing the boundaries still further with its injection of quirky jazz-infused overtures. A promising start then, and one that certainly suggests both a bright and intriguing future'.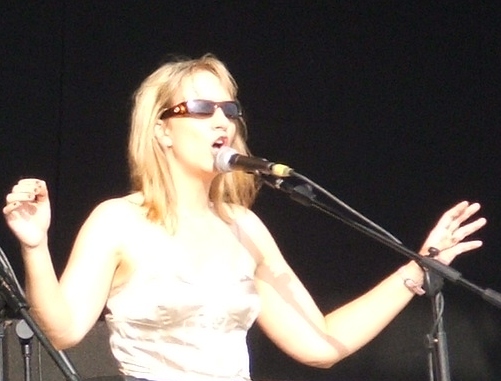 Powerplay magazine: 'The focal point of the album is undoubtedly Ellie's voice; classically-trained, her approach is unlike anyone else in the genre currently and her surprisingly deep and rich tone will almost certainly appeal to many who are looking for something different from the norm'.
Zeitgeist at the-rocker.co.uk: 'There are moments of out and out prog – see Sons Of The Sleeping Giant – and even the odd poppy moment that could get some Radio 2 play – You're Wrong – and even a ballad – Songbird. But the one thing that the band are not short of is good tunes, and their isn't an out and out duffer to be found anywhere on the album'.
Silhobbit (an earlier review): 'We here at Silhobbit.com reckon that outlaw-prog band Coralspin will be one of the new bands you'll be taking notice of next year'.
Leftlion magazine: 'A very different unique band… They have something new and different that the music scene is in need of at the moment'.
Catholic Vote: 'I'm a very proud owner of this CD, and I eagerly await the follow up'.
Access All Areas Music (aaamusic.co.uk): 'Coralspin is a fresh, different and enjoyable act that grows on you. As strong and talented performers their music is exciting, melodic and original. It's rich, smooth and classy with a great deal of versatility. Coralspin also have a fine, expressive and competent singer in Ellie Blyth… Their attempt to create an epic and adventurous tone to the music feels quite genuine. They avoid being absurdly majestic and pompous, the element that some 'prog rock' critics are very quick to attack. 4/5'.